Posts for tag: orthodontic treatment
By Dr. Matturro
July 07, 2018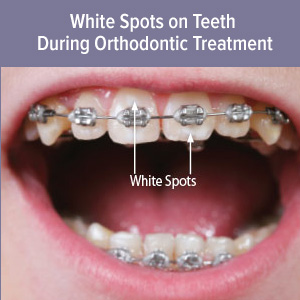 When your braces finally come off, you'll hopefully be astounded by what you see –once-crooked teeth replaced by a more attractive smile. But you might also see something you didn't expect: noticeable white spots on some of your teeth.
These spots called white spot lesions (WSLs) appear lighter than the surrounding tooth enamel due to mineral loss just beneath the surface. This happens because bacterial or food acids have contacted the enamel surface for too long and dissolved the underlying calcium and other minerals. This results in a small discolored and chalky-like area in the enamel.
WSLs are common during orthodontics because wires and brackets create hard to reach places for brushing and flossing, which can accumulate bacterial plaque. The bacteria produce acid, which weakens the enamel at these places. The tiny white spots that result are more than just unattractive—they can become entry points into the tooth for decay. That's why they should be dealt with as soon as possible—and preferably before they're created.
To that end, you'll need to do as thorough a job as possible brushing and flossing while undergoing orthodontic treatment. To improve your thoroughness try using an interproximal toothbrush that can maneuver more closely around braces hardware than a regular brush. You can also improve your flossing with a floss threader or a water flosser, a device that sprays pressurized water to loosen and flush away plaque.
If you do develop WSLs, there are some things we can do to treat them. We can attempt to re-mineralize the affected enamel with the help of topical fluoride (either pastes or gels for home use or with an office application) or a re-mineralizing agent. We can also use techniques like microabrasion, which restores damaged areas beneath the surface, or inject a liquid, tooth-colored resin beneath the WSL's surface to improve appearance and protect against decay.
If while wearing braces you do notice any white spots or other tooth discoloration let your dentist or orthodontist know right away. The sooner your dental providers can begin dealing with potential WSLs the better your chances for a healthy and beautiful outcome after braces.
If you would like more information on oral hygiene while wearing braces, please contact us or schedule an appointment for a consultation. You can also learn more about this topic by reading the Dear Doctor magazine article "White Spots on Teeth During Orthodontic Treatment."
By Dr. Matturro
May 18, 2018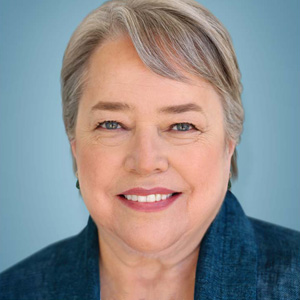 In her decades-long career, renowned actress Kathy Bates has won Golden Globes, Emmys, and many other honors. Bates began acting in her twenties, but didn't achieve national recognition until she won the best actress Oscar for Misery — when she was 42 years old! "I was told early on that because of my physique and my look, I'd probably blossom more in my middle age," she recently told Dear Doctor magazine. "[That] has certainly been true." So if there's one lesson we can take from her success, it might be that persistence pays off.
When it comes to her smile, Kathy also recognizes the value of persistence. Now 67, the veteran actress had orthodontic treatment in her 50's to straighten her teeth. Yet she is still conscientious about wearing her retainer. "I wear a retainer every night," she said. "I got lazy about it once, and then it was very difficult to put the retainer back in. So I was aware that the teeth really do move."
Indeed they do. In fact, the ability to move teeth is what makes orthodontic treatment work. By applying consistent and gentle forces, the teeth can be shifted into better positions in the smile. That's called the active stage of orthodontic treatment. Once that stage is over, another begins: the retention stage. The purpose of retention is to keep that straightened smile looking as good as it did when the braces came off. And that's where the retainer comes in.
There are several different kinds of retainers, but all have the same purpose: To hold the teeth in their new positions and keep them from shifting back to where they were. We sometimes say teeth have a "memory" — not literally, but in the sense that if left alone, teeth tend to migrate back to their former locations. And if you've worn orthodontic appliances, like braces or aligners, that means right back where you started before treatment.
By holding the teeth in place, retainers help stabilize them in their new positions. They allow new bone and ligaments to re-form and mature around them, and give the gums time to remodel themselves. This process can take months to years to be complete. But you may not need to wear a retainer all the time: Often, removable retainers are worn 24 hours a day at first; later they are worn only at night. We will let you know what's best in your individual situation.
So take a tip from Kathy Bates, star of the hit TV series American Horror Story, and wear your retainer as instructed. That's the best way to keep your straight new smile from changing back to the way it was — and to keep a bad dream from coming true.
If you would like more information about orthodontic retainers, please contact us or schedule an appointment for a consultation. You can learn more about this topic in the Dear Doctor magazine articles "Why Orthodontic Retainers?" and "The Importance of Orthodontic Retainers." The interview with Kathy Bates appears in the latest issue of Dear Doctor.
By Matturro Dental, PC
March 19, 2018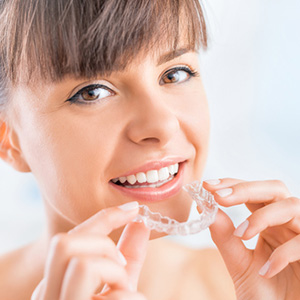 Your teen is about to embark on an orthodontic journey to a straighter, more attractive smile. But although you're excited about the outcome, you both may be steeling yourselves for a few years of "life with braces."
But maybe not—your teen may be able to take advantage of a different kind of corrective appliance: clear aligners. This 21st Century teeth movement method has a number of advantages over braces. For teens, though, there's one big one that could have a huge impact on their social life—clear aligners are nearly invisible to other people.
Clear aligners consist of a series of clear, removable, computer-generated trays based on photographs, models and x-rays of an individual patient's teeth and bite. Each of the trays is slightly different from the previous one in the series, and by wearing each one for about two weeks before moving on to the next, the aligners gradually move the teeth to the desired new positions.
Besides reducing embarrassment often associated with wearing metal braces, clear aligners have other benefits. Unlike braces, they can be removed for eating, easier oral hygiene or for rare special occasions (although for best effectiveness, they should be worn for 20 to 22 hours each day). Recent developments like added elements that help target certain teeth for movement or "power ridges" for more controlled and efficient force have increased the range of bite problems they can be used to correct.
While this means clear aligners can be used for many bite problems, in some severe cases braces and other orthodontic treatments might still be necessary. And because they're not fixed like braces (only the orthodontist can remove them) the patient must have the maturity and self-discipline to wear them consistently.
Your teen will need to undergo a thorough orthodontic examination to see if clear aligners are a viable option for them. If so, it could make the next few treatment years less stressful for both of you.
If you would like more information on clear aligners, please contact us or schedule an appointment for a consultation. You can also learn more about this topic by reading the Dear Doctor magazine article "Clear Aligners for Teens: User-Friendly Orthodontics."